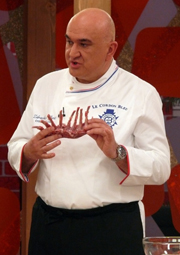 Zdravko was raised in Croatia, where he was exposed to a style of cooking that fused unique Mediterranean and Adriatic cuisine culture to create a flavourful masterpiece.
From an early age, Zdravko enjoyed preparing food to please friends and family members. After gaining his formal education in Croatia, he then moved to Germany where he spent seven years working as a Chef de Partie at a prestigious hotel in Nuremberg. Following his first European culinary experience, he decided to move to North America where he joined the 5 star Four Season Hotel in Scottsdale, Arizona, working as a Sous Chef. It was here, working in one of the most prestigious hotels in the world, that Zdravko discovered his real passion for food and cooking.
His cooking journey continued as he spent more than a decade working for award winning restaurants and hotels in Vegas as an Executive Sous Chef, this included working in The Bleu Fig, Café Isabelle and Luxor's Isis 5 star casino hotel. In 2004, Zdravko was awarded a Culinary Diploma from the prestigious Le Cordon Bleu College in Scottsdale, Arizona. After he graduated, Zdravko was offered his first position as an Executive Chef in one of the most luxurious hotels in the world, The Plaza.
On his culinary adventure he has personally cooked for a list of top celebrities such as Sylvester Stallone, Tony Curtis, Don King, Whoopi Goldberg, Alice   Cooper, Joe Montana, Oscar Goodman, Jessica Simpson, Tiger Woods and Celine Dion, just to mention a few.
Speaking about his experience, Zdravko says: "I can only say that after these 18 years of working in America for 5 star hotels and restaurants, it was more than a culinary encounter; it was a lesson for life. I remember having recorded all my professional experiences, both the good and the bad, in a journal.
"Working in Vegas was a memorable start to my career as a professional chef, but it was also a steep learning curve, and I refer to that journal as a record of all of the lessons I learned in those hotel kitchens."
In 2007, after his time in America, he continued his culinary career in Dubrovnik, Croatia at the luxury Hotel Grand Villa Argentina and the 5 star hotel Croatia in Cavtat. He developed and introduced new culinary concepts, re-engineered menus and educated people in new ways of cooking.
In addition to his restaurant and hotel cooking experiences, he is also working in the world of teaching and food product development for the future Croatian – American Culinary Institute near Zagreb.
He is spending some time consulting on food trends and helping clients in discovering current trends to create exciting new dishes and food products. In the meantime, he enjoys the process of expanding his interest and involvement in the culinary world.